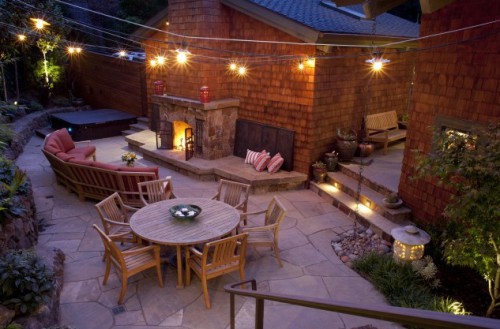 When approaching the outdoor living spaces of your Atlanta home, treat the area like a room. The same principals of design apply, only with a few additional considerations. Take a look at some of our tips for creating outdoor living spaces so pleasant, you'll never want to go inside.
Make your outdoor room comfortable by investing in good outdoor furniture. Try to coordinate the scale and style with your home.
Add a rug. Just like inside your home, rugs can define a space, add color, and create a richly layered look that a bare floor (or deck) doesn't.
Choose durable, washable fabrics. Neutrals are always a good choice for foundation pieces like sofas and chairs, but you can always add in a pop of color or pattern with throw pillows.
B Lighting is so important, both inside and outside your home. Lanterns, chandeliers, candles, or twinkle lights can all be used to set the mood, but don't forget about the practical aspect of lighting- include landscaping lights and other fixtures to illuminate walkways for safety.
A well-designed outdoor living space can be as beautiful as any room in your house, and will bring so much enjoyment during the warm summer months. If you'd like to improve your home with an outdoor living space for relaxing, dining, or entertaining, contact MJN & Associates Interiors today. Give us a call at 888.377.8026.
photo via Houzz