At MJN & Associates Interiors, we believe your home should be personal, comfortable, and elegant, expressing your personality while also making life more comfortable and pleasant. That philosophy applies not only to everyday interior design, but also to your holiday decorations!
We've already discussed the number one strategy for making your Christmas decorations fit your home in a previous post- working with your existing color scheme in order to create a harmonious atmosphere. Today, we'll share some more ideas for decking the halls of your Virginia Beach home.
Embrace a theme
If you have a passion, let it come out to play in your holiday decor! Themed Christmas trees are a fun way to express your interests and tie the tree into the rest of your home decor.
On the other hand, don't feel compelled to sacrifice sentimentality for style. If you have a hodgepodge collection of ornaments that your family has collected, made, and been gifted over time, hang them with pride. You can still make your tree look great by including unifying elements, like a ribbon or garland threaded throughout the tree or a background layer of identical gold or silver ball ornaments hung before the family favorites.
Re-think the details
One of the best ways to make your Christmas decorations your own is to come up with creative solutions to practical problems. For instance, most people place their Christmas tree in a stand and cover the stand in a tree skirt. What if instead, you placed your tree in a beautiful flower pot or urn (one that is structurally sound for such a task, of course), or even a galvanized bucket for rustic style.
How else can you put your own spin on classic Christmas decorations? Take something iconic, like a wreath, and think of new ways to execute it. The book page wreath below adds vintage glamour that coordinates with the existing art.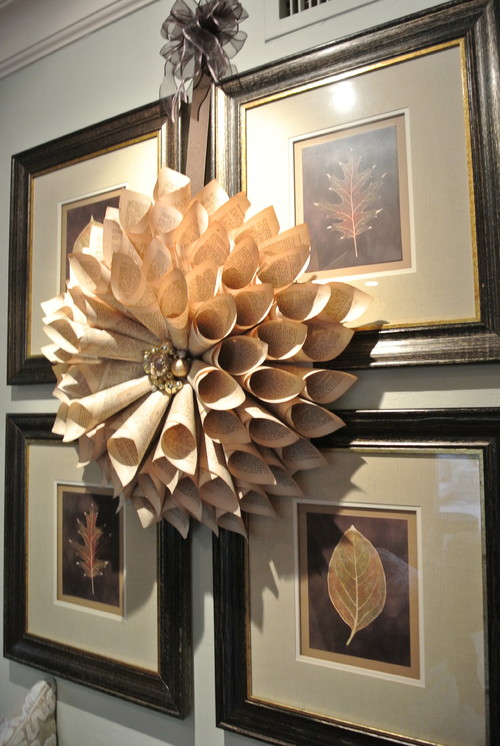 Check out our next post for more ideas to deck your halls in high style! Need some help getting your home holiday-guest ready? Contact Virginia Beach interior designer Michelle Nettles for a consultation, and give yourself the gift of a home you love.